Good Day To You, Walleteer!
We are Erin and Simon from Never Ending Voyage and we want to thank you for trying out our app. We have been travelling non-stop for five years and part of how we support ourselves is through Trail Wallet.
If you're looking for a quick overview on how Trail Wallet works, check out our intro video!
New Features!
3.1 introduced Tags and an Adjusted Budget. To see the adjusted budget, tap on daily budget on the Summary Screen and Trail Wallet will show you a new budget that you'll need to stay under for the rest of your trip if you're going to remain on budget. This only works on trips that have a fixed end date.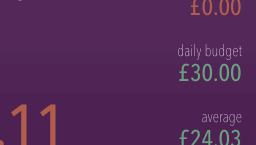 We also have a range characters and themes that allow you to customise Trail Wallet to suit your personality.The characters and themes are available as one-time In App Purchases and don't change the functionality of the app. They simply make budgeting more fun and send a signal to us that you like what we're doing and are willing to help us carry on doing it.
Thanks for buying Trail Wallet and the additional themes! It means a lot. We're just two people trying to make this work and we've spent thousands of hours building this app with no VC funding. Your continued support allows us to keep working on improving it so you have a better idea of where your cash is being consumed.
Much love,
Simon and Erin
Get In Touch
If you have any issues with Trail Wallet, or features you'd like to see, then we'd love to hear from you!
Future Additions
Syncing is on the list (although this one will take some time)
As is saving entry locations and receipt photos
FAQs
How do I edit Trips?

From the Summary screen, Tap "Trips" and make sure that "Trip View" is selected, then tap on the little i icon next to the trip you want to edit.

The exchange rate seems wrong! What gives?

Trail Wallet does not currently automatically update the exchange rate. There's a reason for this—if, for example, you withdraw some money from an ATM, then you want the rate at the time you withdrew it to stick until you've burned through all that cash.

OK. So how do I update it?

From the Summary screen, Tap "Trips" and make sure that "Trip View" is selected, then tap on the little i icon next to the trip you want to edit, then tap "Manage Trip Currencies", then the currency you want to change. Finally, you can either tap "Get Latest Rate" to get the latest rate, or tap in the box to enter your own rate. Tap anywhere outside the box to save it.

Hmmm, that rate is not the same as I'm getting from my bank.

All banks will give different rates. We get the market rate from our rate provider, which is sourced from various banks and financial institutions around the world, then we cache it on our servers for 24 hours. If you need your rate to be precise, then you should enter a custom rate.
Exchange rates only apply to all newly added amounts.

How do I delete and edit items?

On the History screen, swipe to the left over the item you want to delete. Or press the "Edit" button in the bottom left and you can select multiple items to delete or to move to another trip.
To edit an item, tap on it in the History screen.

How do I split Amounts Across Multiple Days?

On the Add Amount screen, tap on the Date button to bring up the date picker and you'll see a stepper that'll allow you to spread amounts over multiple days. Click + to spread over more days, and - to spread over fewer. The maximum number of days you can spread an amount over is 60.

How do I set my budget?

From the Summary screen press "Trips" in the top left, or swipe to the right. Select "Trip View" and then tap the i icon next to the trip whose budget you'd like to edit.
From here you can also add new local currencies.

Can I have a Daily and a Trip budget?

No, you have to choose one or the other. If you choose a Trip budget then your Daily budget will be automatically calculated by dividing the Trip budget by the number of days in your trip.
If you want to budget for big expenses like flights separately from your daily expenses you have a few options. You could create a Trip for Extras and track those expenses there. You could also spread out expenses over multiple days (up to 30) on the Add Amount screen—select the date then use the plus and minus buttons above the date to choose how many days to spread the payment.

Can I add and edit categories?

Of course. Go to Settings, choose Categories, and there's an "Add New Category" button at the bottom. The "Edit" button is in the top right and you can delete categories or change the order.

How do I export my data?

Press the button in the top right of the Summary screen and you can export your data as a CSV file by email, Airdrop, or message. This can be opened in any spreadsheet programme.

Can I track my income?

I'm afraid not. Trail Wallet is designed to track your travel expenses.
Gestures
Trail Wallet has a bunch of additional gestures to help make managing expenses even faster:
Swipe up on the Summary screen to add a new amount
Swipe left on the Summary screen to access the History screen
Swipe right on the Summary screen to access the Trips view
Swipe down on the Add Amount screen to save your current amount and exit (this one is great for larger devices as you don't have to stretch to reach the Save button)
Swipe left on any amount in the History screen to quickly delete it