Trail Wallet FAQ
Good Day To You, Walleteer!
We are Erin and Simon from Never Ending Voyage and we want to thank you for trying out our app. We have been travelling non-stop for seven years and part of how we support ourselves is through Trail Wallet.
If you're looking for a quick overview on how Trail Wallet works, check out our intro video!
Trail Wallet version 3.4 introduced photos for amounts! You can add photos from either the camera or your Photos library—add a new amount and tap on the camera icon to get started.
Photos are saved in iCloud along with the rest of your backup data. You can export all of the photos that have been attached to your trips (or in all of your trips) from the Export screen (tap the Share icon—the box with the upwards arrow—from the Summary screen to get started).
The CSV exports will have the image filenames included next to the amounts so you can match up the images with the amounts in your own spreadsheets.
You can now also tap a bar in the Bar Chart to be taken directly to a list of that day's spending. Convenient!
We hope you like Trail Wallet and continue to find it useful. If you've been using it for a long time, you might notice a new Tip option on the Settings screen. Trail Wallet doesn't use subscription pricing or charge for updates, so if you have found it useful for a long time, consider throwing in some change to help continuing development!
Thanks and much love,
Simon and Erin
FAQs
Does Trail Wallet Support Syncing?
Unfortunately no and, as I am no longer working on Trail Wallet full time, it's unlikely it'll be added.
So what happens to my data if I my phone gets lost?
Trail Wallet has an automatic backup system that takes daily snapshots of your data and uploads it to iCloud. You can read all about it in this post.
How do I edit Trips?
From the Summary screen, Tap "Trips" and make sure that "Trip View" is selected, then tap on the little i icon next to the trip you want to edit.
The exchange rate seems wrong! What gives?
Trail Wallet does not currently automatically update the exchange rate. There's a reason for this—if, for example, you withdraw some money from an ATM, then you want the rate at the time you withdrew it to stick until you've burned through all that cash.
OK. So how do I update it?
From the Summary screen, Tap "Trips" and make sure that "Trip View" is selected, then tap on the little i icon next to the trip you want to edit, then tap "Manage Trip Currencies", then the currency you want to change. Finally, you can either tap "Get Latest Rate" to get the latest rate, or tap in the box to enter your own rate. Tap anywhere outside the box to save it.
Hmmm, that rate is not the same as I'm getting from my bank.
All banks will give different rates. We get the market rate from our rate provider, which is sourced from various banks and financial institutions around the world, then we cache it on our servers for 24 hours. If you need your rate to be precise, then you should enter a custom rate.

Exchange rates only apply to all newly added amounts.
How do I delete and edit items?
On the History screen, swipe to the left over the item you want to delete. Or press the "Edit" button in the bottom left and you can select multiple items to delete or to move to another trip.

To edit an item, tap on it in the History screen.
How do I split Amounts Across Multiple Days?
On the Add Amount screen, tap on the Date button to bring up the date picker and you'll see a stepper that'll allow you to spread amounts over multiple days. Click + to spread over more days, and - to spread over fewer. The maximum number of days you can spread an amount over is 60.
How do I set my budget?
From the Summary screen press "Trips" in the top left, or swipe to the right. Select "Trip View" and then tap the i icon next to the trip whose budget you'd like to edit.

From here you can also add new local currencies.
How do I see my Adjusted Budget?
To see the adjusted budget, tap on daily budget on the Summary Screen and Trail Wallet will show you a new budget that you'll need to stay under for the rest of your trip if you're going to remain on budget. This only works on trips that have a fixed end date.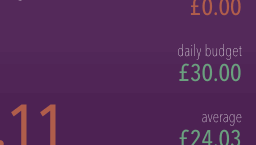 Can I have a Daily and a Trip budget?
No, you have to choose one or the other. If you choose a Trip budget then your Daily budget will be automatically calculated by dividing the Trip budget by the number of days in your trip.

If you want to budget for big expenses like flights separately from your daily expenses you have a few options. You could create a Trip for Extras and track those expenses there. You could also spread out expenses over multiple days (up to 30) on the Add Amount screen—select the date then use the plus and minus buttons above the date to choose how many days to spread the payment.
Can I add and edit categories?
Of course. Go to Settings, choose Categories, and there's an "Add New Category" button at the bottom. The "Edit" button is in the top right and you can delete categories or change the order.
How do I export my data?
Press the button in the top right of the Summary screen and you can export your data as a CSV file by email, Airdrop, or message. This can be opened in any spreadsheet programme.
Can I track my income?
I'm afraid not. Trail Wallet is designed to track your travel expenses.
Gestures
Trail Wallet has a bunch of additional gestures to help make managing expenses even faster:
Swipe up on the Summary screen to add a new amount
Swipe left on the Summary screen to access the History screen
Swipe right on the Summary screen to access the Trips view
Swipe down on the Add Amount screen to save your current amount and exit (this one is great for larger devices as you don't have to stretch to reach the Save button)
Swipe left on any amount in the History screen to quickly delete it