Less Tracking
More Travelling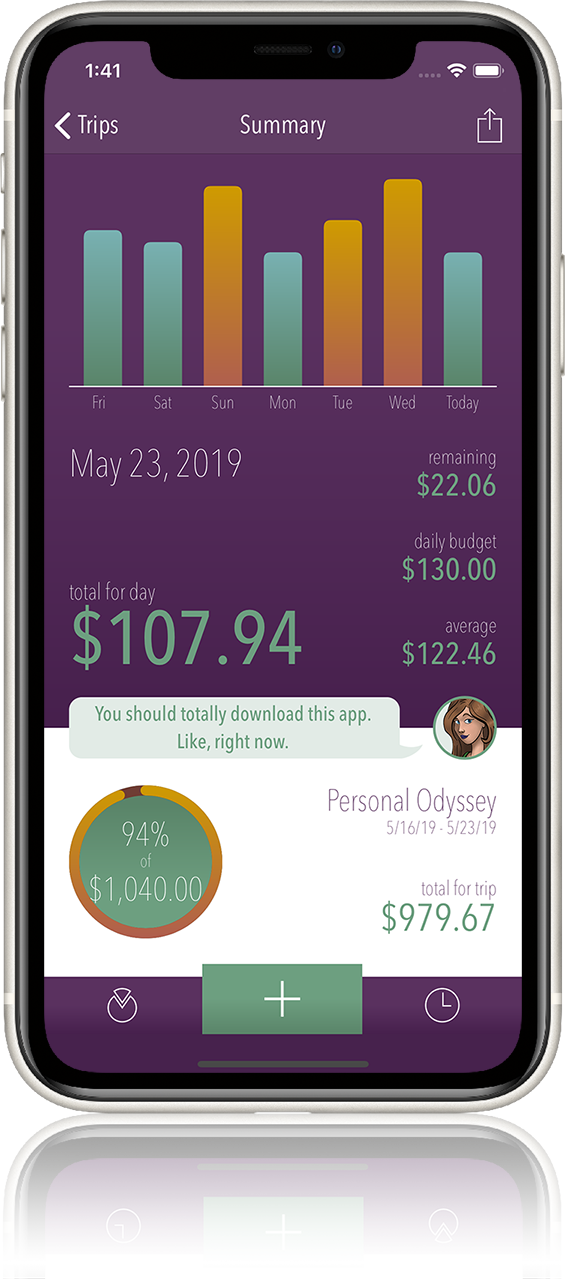 NOTE: Trail Wallet is no longer available and this page is for archival purposes only.
Trail Wallet is an easy travel expense tracker for iPhone and iPad. Designed to be fast, it takes the headache out of expense tracking so you can focus on the fun.
"Trail Wallet...is the best travel-centric expense tracking app I've used. It's quick, intuitive, pretty(!), and has easily customizable categories so you can organize and record your expenses in a way that makes sense to you."
Nora, The Professional Hobo
Trail Wallet is free for up to 25 items, so try it out today and find out how easy it is to track your travel expenses.
As Featured In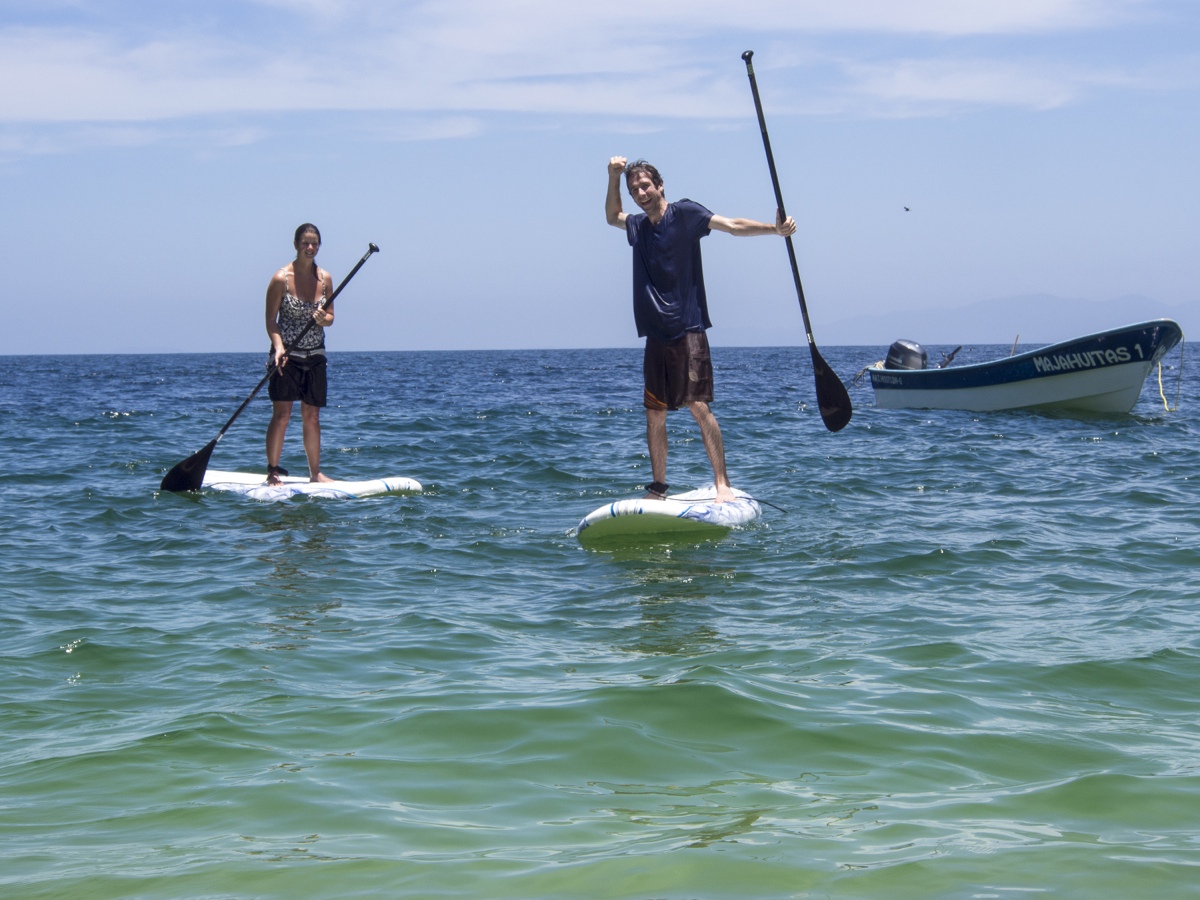 Financial Freedom
We are Simon Fairbairn and Erin McNeaney of Never Ending Voyage, a couple who've been travelling full time since March 2010. Managing our finances is what has enabled us to have so many wonderful experiences but, after 3 years on the road, we needed something better than scribbled notes, loose receipts and complicated spreadsheets to track our expenses.
So we built Trail Wallet.
Nobody wants to worry about money while travelling, but we all do. Tracking your finances is a simple way to get some freedom from this financial anxiety.
Instead of just hoping you've got enough money, know.
"Because Trail Wallet is super easy to use, fast, and has a fun and beautiful interface I've found myself tracking all of my costs for the past couple of months — and actually enjoying doing so!"
Lauren, Too Many Adapters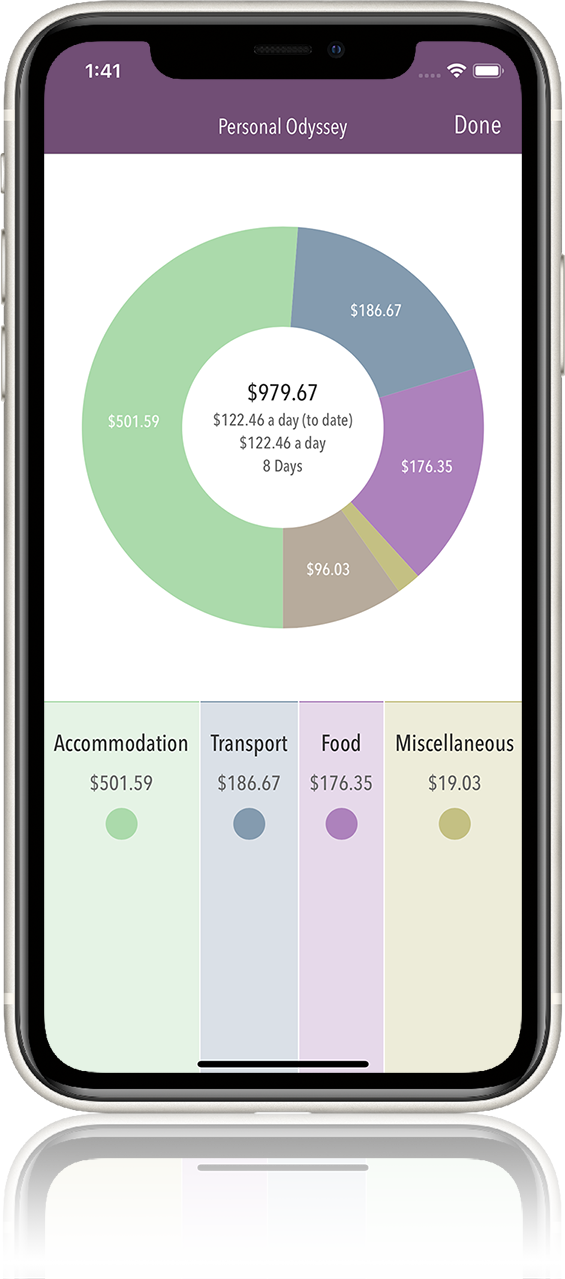 Simple
Road tested by over 150,000 travellers, the app is simple, clear and easy to use.
Organise your expenses by trip or by month, set yourself a daily budget, then easily add expenses as you go. When you get a bill or receipt, pull out your iPhone, add the amount using the Quick Add screen and you're done. Forget about it. Get on with your day.
No more collecting receipts in bags or pockets. No more sitting with a calculator trying to work out how you're doing. No more trying to remember how much that tuk-tuk cost.
At the end of the day or week or month or trip, you can see how you're doing. A little over budget? No problem—our app will tell you what's eating up your cash. Under budget? Good job—send a little reassurance tweet to your friends and family with Twitter and Facebook integration.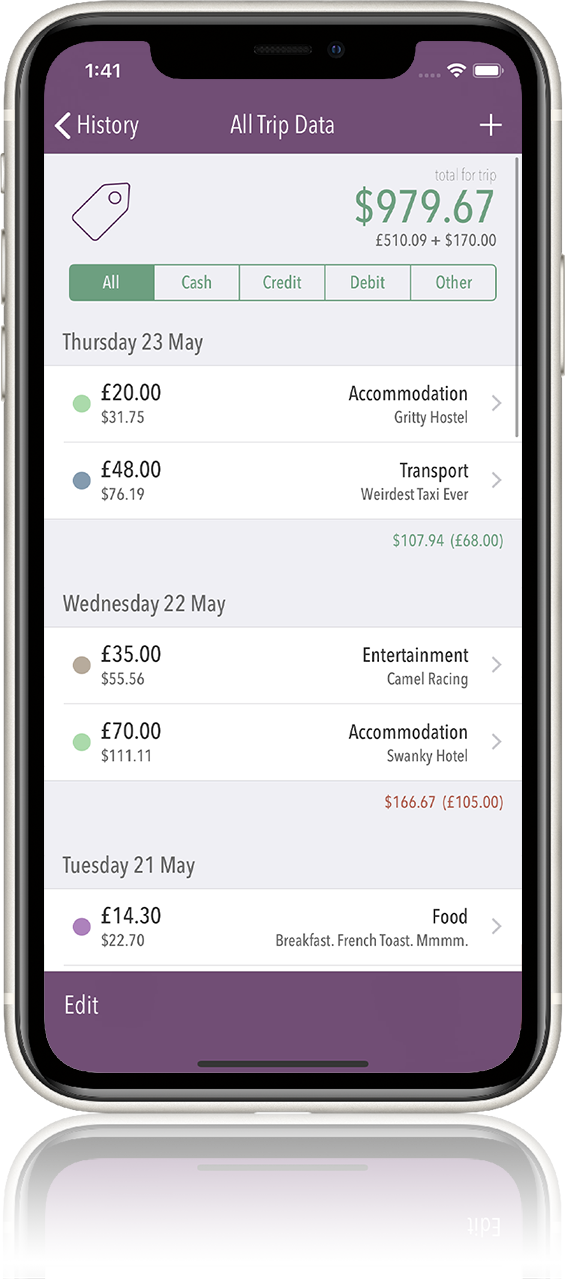 Key Features
Summary
Tap on your daily budget to see an adjusted budget which tells you how much you have left to spend based on what you've spent so far
Comprehensive summary screen giving you all you need to know about your budget
Interactive bar chart showing your last five day's spending (tap on the bar to see all of that day's amounts)
Customise Trail Wallet with a range of fun characters and themes (available as additional In App Purchases)
Trips
Add multiple trips with custom start and end dates
Automatic start and end dates if you don't want the fun to end
Per-trip history, pie chart and export options
Adding Amounts
Add images to amounts—great for taking photos of receipts
Tag amounts with any number of tags
Quickly add new amounts while you're out and about
Add amounts in local currencies from 218 countries
Add amounts in either your home or local currencies
Easily update your app with the current exchange rate (Internet connection required)
Option to spread expenses out over multiple days
Categories
Organise your spending by category
Customise your categories and category colours
Interactive pie charts for a visual view of how much you've spent by category, including itemised breakdowns
Breakdowns
Filter your data by tag
Daily of how you're doing against a daily and monthly or trip budget
Month by month breakdown of all of your expenses for each trip
Quickly and easily move multiple amounts between trips
Export and Sharing
Share CSV reports directly from the app—either selected dates or your entire trip
Share all of the attached images
Backups
Daily automatic backups of all your data automatically backed up to iCloud (iCloud account required)
Export your backups via email or message
Getting Started with Trail Wallet
See how easy it is to get started with Trail Wallet in this introductory video, or check out our FAQ (please note that trips are now edited by tapping the small i icon next to each trip name):
What People Are Saying About Trail Wallet
"Easy to use, quick to add purchases and update - if there is one app every traveller should have it is, without a doubt, Trail Wallet. I can't recommend it enough. In fact, I think I'll continue to use it once I return home." Maura Brickell
"As a full-time traveler, keeping track of my expenses is super important. This is the first expense tracker I've found that does just what I need it to do, and nothing more. Fast, easy, and minimal. Love it." Matthew Karsten
"LOVE this App!!! Ever since we set out on our RTW we've been using this app to track our spending and budget! So handy having it on our phone and not having to write stuff down and remember to add later. Seriously couldn't live without it at the moment." Divergent Travelers
"My boyfriend Andrew and I are travelling the world indefinitely on a budget; we use Trail Wallet everyday to track our expenses and find it so useful" Amy Blyth
"Since using Trail Wallet over the past year, I often wonder how I lived without it. Certainly I've saved untold buckets of money because I have an easy way to track my expenses and see the long view of my spending over the course of the trip. App design is crucial and this puppy is a joy to work with - I also appreciate the dry humor built in." Keith Savage
"This is the perfect app if you're travelling on a budget…The app helps you save money, because you become aware of how much money you're spending." Nomadic Danes
"Once you start tracking your budget on a daily basis, it becomes a little addicting!" Josh, Traveling 9 to 5
"I am currently 1 month in to my 6 month round the world trip and have been using this app daily to keep track of daily expenses. Love that you can have multiple foreign currencies, can export to excel and set a daily spending limit. Definitely the best app for long term travel!!!" Limelicious
"It might be the greatest travel tool to see the light of day since the invention of the compass." Lunaguava
"I am loving the app. We've used it every day and it has completely replaced the old excel sheet I had been using." Tracy
"Trail Wallet is a newly launched app but we think it's catapulted to the head of it's class with it's ease of use, fine graphics, and expense tracking in any currency." Colour & Clarity
"I love this product. Just back from a 4 month o/s holiday and used it all the time to track our expenses. Worked perfectly across 3 different currencies. Easy to use and update on the go" Cardscraps
"I have been waiting and looking for an app like this for about three years now and someone has finally delivered. I love it! This is a great app for backpackers and businessmen alike." Griffin Stewart
"Easy to log in expenses, add categories, and see where your money goes. I like that it supplies the current exchange rate OR you can add in the rate you want to use. Very helpful!" Bessiejulia
"Great, clean look, and perfect for what it does. I love the automatic currency conversion feature! I'll definitely be using it on my trip to Thailand next month!" Zlassenp
"Trail Wallet…has been such a great help to keep track of our expenses and made it fun trying to stay under budget. We did so well, that in the end we had some money to spare to do some "crazy stuff" at the end of our trip (we went para-sailing, rented a boat and took a helicopter flight over NYC), all thanks to you!" Thomas & Eva
Trail Wallet Press
Detailed Reviews
Mentions