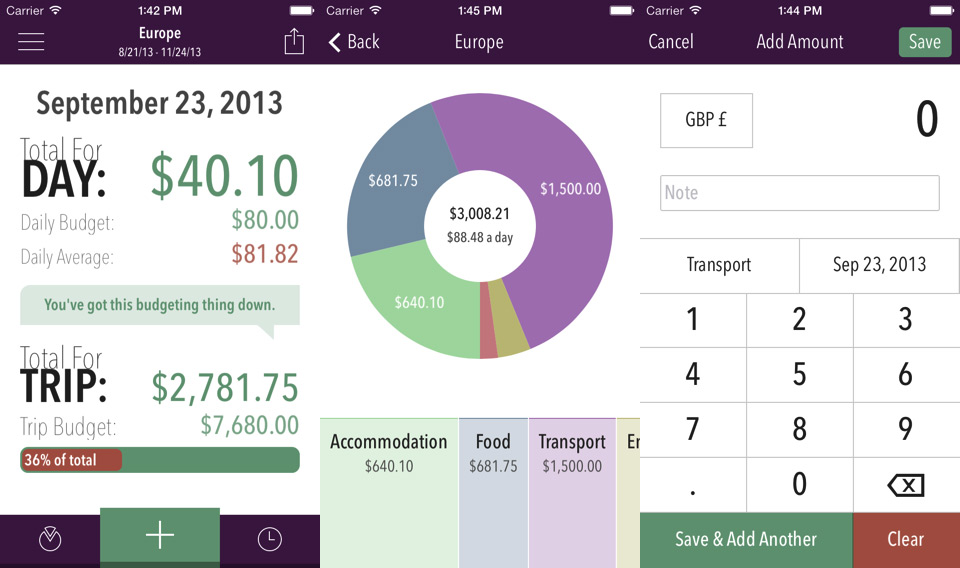 On the 30th September, Trail Wallet 2.0 will be released[1].
This is our biggest update yet, featuring a brand new, iOS 7 ready design full of colour and new buttons and things.
Of course, the biggest new feature is trips. Ya'll asked for it and we delivered! Here's what you can now do:
Have multiple trips! As many as you like! Access the complete history from our handy sliding side menu.
Each trip can have their own start and end date (with the option to leave it open-ended if you prefer)
Each trip can have its own budget (either a daily budget or a total trip budget)
Each trip can have up to FIVE currencies each for those annoying countries which have multiple currencies in circulation.
Each trip has its own complete history, organised by month, and pie chart summary of everything spent so far.
Of course, if you liked it the old way, then you are welcome to leave it organised by month.
The choice, my friends, is entirely yours.
Sounds Grand. Anything Else?
Yeah! All this:
Backup to Dropbox! The app automatically backs your data up every day then silently ships it off to Dropbox so, should the worst happen, you are but a restore away from re-entering Trail Wallet nirvana.
New icon! iOS 7 inspired!
Swipey goodness everywhere! Swipe up on the Summary screen to add a new amount, swipe left to go to your history, swipe right to open the menu. Swipe swipe swipe...
Interactive summary screen! Tap the screen to instantly convert your summaries to all of your local currencies.
Improved history! See your daily spends broken down by currency.
Total redesign!
Facebook integration!
Export your data as a CSV between any two dates, or for your entire trip!
Trail Wallet 2.0 will be like a whole new app! Look out for it from the 30th September.
If you haven't already picked up a copy, you can get it on the App Store (the new version will automatically be available to you once released).
---
Barring any App Store rejections, or major bugs, or arbitrary mind changes ↩︎